In the second day of the conference "Development of the Vietnam Water Conservation Network (VIWACON) Year 2", the excitement, enthusiasm, and passion of VIWACON's members were clearly showed up with the coordination and guidance from the network's experts and senior advisors: Mr. Dao Trong Tu – Director of the Centre for sustainable development of water resources and adaptation to climate change (CEWAREC) and Ms. Vo Hoang Nga – Expert in capacity building and network development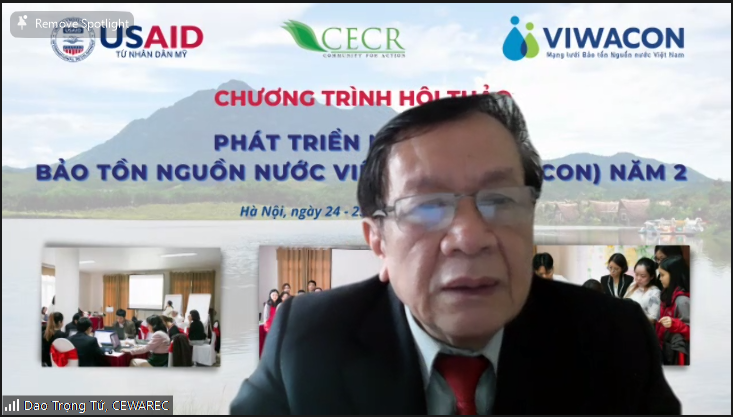 Mr. Dao Trong Tu – Deputy Director of the Centre for sustainable development of water resources and adaptation to climate change (CEWAREC)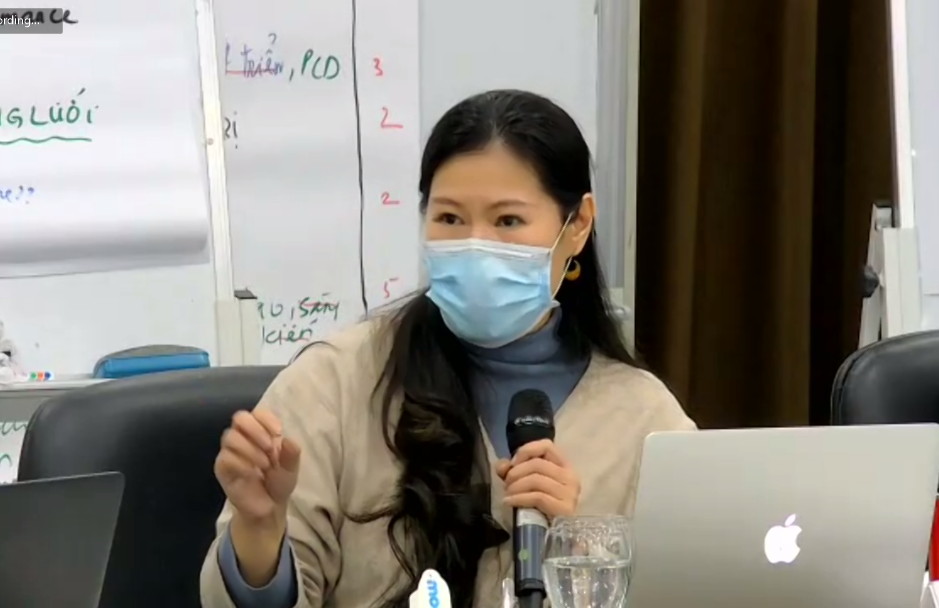 Ms. Vo Hoang Nga – Expert in capacity building and network development
All together, the network's members reviewed the vision and the mision, as well as the operation regulations and the organization's structure through the presentation by Mr. Ngo Huy Liem – Senior advisor of VIWACON and Ms. Doan Vu Thao Ly – Director of CECR. In addition, the delegates gave their views to help the network improve.

Mr. Ngo Huy Liem – Senior advisor of VIWACON

Ms. Doan Vu Thao Ly – Director of CECR
Ms. Nguyen Thi Phuong Lam – 

Policy advocacy specialist

Mr. Nguyen Tien Dung – VIWACON's expert

Ms. Bui Thi Thanh Thuy – Deputy Director of C&E

Ms. Duong Thi To – Director of CECoD
Additionally, all participants worked together to make a network development plan based on four important pillars including: strengthening organization's capacity; policy advocacy's communication; network coordination and development; resource mobilization and fundraising. In particular, VIWACON's members participated in capacity assessment to have congruent capacity building's strategies for each individual because the success of the network "is the success of each network member".

Team 1's presentation

Team 2's presentation

Team 3's presentation
In the conference, Ms. Nguyen Ngoc Ly – Founder of VIWACON/Chairman of CECR Management Board highly appreciated the fact that the conference went directly into specific activities to be able to completed the tasks the were committed to the project and to the local community. In order to carry out the operations, it is required a lot of flexibility to ensure efficient execution and product completion.
In general, the conference marked the strong development of VIWACON. All members are firmly committed in the action plan with Consensus – Enthusiasm – Mutual Respect – Creativity – Efficiency to build a pioneering network in coming up with initiatives and solutions to ensure clean water for everyone.
Source: CECR