A labourer works at a waste treatment plant in Đà Nẵng city. The city discharges 870 tonnes of rubbish each day, 11.36 per cent were plastic waste. — VNS Photo Công Thành
Viet Nam NewsĐÀ NẴNG — Poor infrastructure investment in waste treatment has kept Việt Nam in the list of five countries who together discharge more solid waste, particularly plastic, into the ocean than the rest of the world combined. The other four countries are China, Indonesia, Thailand and the Philippines.
Director of the Centre for Environment and Community Research (CECR), under the Union of Science and Technology of Việt Nam, Nguyễn Ngọc Lý said at a seminar on sustainable urban solid waste management ealier this week Việt Nam has been struggling against increased solid waste discharge into the environment, while treatment facilities are unlikely to catch up for decades.
She said the amount of solid waste produced by the country, especially plastic waste, has increased at an alarming speed in the last decade. The country discharges 19,000 tonnes of rubbish, of which 16 per cent were plastic waste, every day.
"There needs to be a discussion on crucial policies to boosting waste treatment and waste classification, starting in the community itself. Education on awareness, habits and responsibility must be promoted, and the participation of people in dealing with waste pollution must increase," Lý said.
"That the use of plastic bags has grown substantially, which could very easily be phased out, presents a real danger to the environment," she said, adding that people have yet to recognise the importance of solid waste recycling and classification at home.
Former head of the infrastructure department of the Ministry of Construction, Nguyễn Hồng Tiến, said the implementation of supportive mechanisms and policy for the development of waste treatment is inadequate, while compost use remains low.
Tiến warned that waste collection in rural areas is limited, and many people dump rubbish in areas that end up polluting local rivers and lakes.
"Currently, the fee of waste collection and transportation in urban areas does not compensate for the cost of treatment, while waste treatment technology is still poor and outdated. Garbage classification and collection is not properly carried out, and this effects rubbish treatment," Tiến said.
He said Hà Nội and HCM City had to allocate funds from VNĐ1.2 trillion (US$53 million) to 1.5 trillion ($66.4 million) for waste treatment, while each household only pays VNĐ20,000 (about $1) for waste collection each month.
Meanwhile, the cost of treating one tonne of garbage is around VNĐ500,000 ($22).
He added that household waste must be categorised as recyclable, organic or solid waste, to ensure better treatment.
"59 provinces out of 63 have plans to deal with increased solid waste production, but the construction of proper treatment facilities has been delayed in Việt Nam for decades," he said.
image: http://image.vietnamnews.vn//uploadvnnews/Article/2018/5/24/raclyson875120038PM.jpg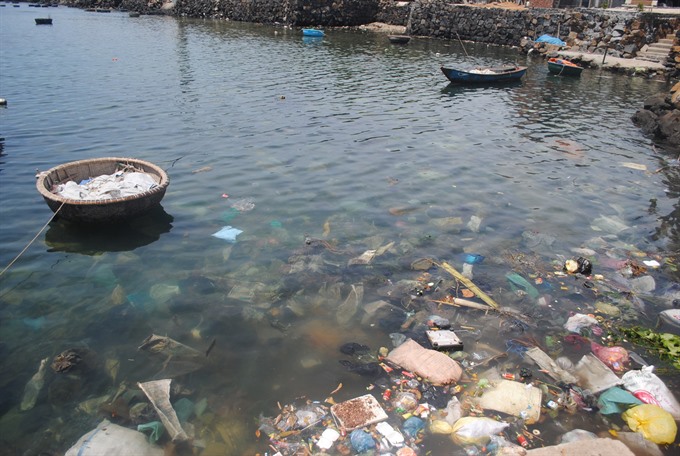 Rubbish is discharged into the sea at a fishing port in Quảng Ngãi Province. Waste treatment facilities have been delayed at many provinces in Việt Nam. — VNS Photo Công Thành
Đà Nẵng's solutions
Quách Thị Xuân, from Đà Nẵng city's Institute for Society and Economic Development, said the city discharged nearly 870 tonnes of waste each day, of which more than 11 per cent was plastic.
The city developed 11 waste disposal depots (DEPO) to recycle 890 tonnes of recycled paper each month, while 800 waste collectors help classify recycled waste, according to Xuân.
The application of the 3Rs (reduce, reuse and recycle) has been carried out effectively in some living quarters in the city since 2012, with 16,000 members joining the 'green living club' – which provides education in the proper management of waste.
Huỳnh Thị Liễu Hoa from the city's Department of Natural Resources and Environment, said at least 4,000 tonnes of rubbish from the sea washes up on the city's beaches every month during the rainy season.
She said the city has yet to develop waste water treatment facilities, so household waste water still discharges directly into the sea.
Hoa said the Thọ Quang fishing port in the city is a heavily polluted site, hosting 55 fishing vessels and nearly 1,000 crew members who discharge a mass of rubbish each day.
Dr. Chu Mạnh Trinh, from the Chàm Island Marine Protected Area management board, said almost all those living on the Chàm Island, a UNESCO-recognised world biosphere reserve site, were aware of the need to use recycle bags instead of plastic ones, and have been using them since 2005.
He said the island, which forbids visitors from bringing plastic bags from the mainland to the island, is now running a zero waste campaign, and refusing to use plastic straws or single use cups.
Satoshi Sugimoto, an expert from Tokyo-based EX Research Institute said at least 80 per cent of daily waste will be completely treated if the central city applies smart management to solid waste collection.
According to a report, Đà Nẵng reserves an annual fund of VNĐ7 billion ($333,000), or 1.54 per cent of the city's budget, for waste collection and treatment, but it can't solve the problem of pollution leaking from dumps.
The Khánh Sơn dump, which expanded from 9.8ha in 1992 to 48.3ha in 2007, will close by 2020. The old dump, which stored 1.4 million tonnes of rubbish between 1992-06, has polluted underground water systems and the environment in the suburban district of Liên Chiểu.
Among the 870 tonnes of garbage discharged each day, 74 per cent was food, garden and park waste, and 10 per cent was plastic.
The city, in co-operation with the Japan International Co-operation Agency (JICA), has started a project to recycle 90 tonnes organic waste into environmentally friendly liquid fertiliser in Cẩm Lệ District. — VNS
Read more at http://vietnamnews.vn/environment/448558/waste-treatment-delayed-in-viet-nam.html#2pIZ7fGZwOvf0skO.99